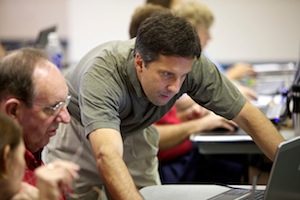 Just about a month ago, the pilot edition of the Drupal Career Starter Program (DSCP) began with eighteen students eager to dive into Drupal.
We're in the middle of the fourth (of ten) weeks and we're just finishing up the core concepts portion of the course - where we covered users, content types, and taxonomy - and gearing up for the next few weeks which will focus on Views, module development, and theming.
All of our students have made extrodinary progress and are rapidly learning how to succeed in building Drupal sites, and just as importantly, learning how to work with the Drupal community. From day 1 of the course, all of the students were registered on Drupal.org and they've been diving deeper every week. We've been focusing on finding and evaluating modules, searching the issue queues, and most recently contributing back to the community in the form of documentation. Check out some of these drupal.org documentation pages that we had a hand in:
We recently had the first DrupalCamp South Florida about three hours (driving) south of here. A full one-third of the class made the trip to have their first experience with the larger Drupal community. It's fair to say that they all came away from the camp impressed and motivated more than ever to dive deeper into Drupal.
At the end of the third week of class, I asked the students to complete an anonymous survey (using Webform, of course) in order to measure how we were doing. All of the results were extremely encouraging, including:
100% feel the pace of the course is "good".
100% indicated they are "moderately satisfied" or "extremely satisfied" (no dissatisfaction!) with the course.
17 of the 18 (94%!) have become more interested in a Drupal career since the course started.
I'll be starting to place students in both local and telecommute internships in the next month. While I've had a great response from organizations that either use Drupal or develop Drupal sites, I'm always looking for more options so that I can place each student somewhere that fits their skills and interests. Please contact me if you are interested in hosting an intern (and there's a good chance it won't cost you a dime!)
Finally, I want to say thanks to the many people in the Drupal community who have already reached out to me with encouragement, questions, and interest in the DCSP. I look forward to growing this program, and I'm smart enough to know that with the Drupal community's support, the sky is the limit!
Photo by John Sluder Photography.