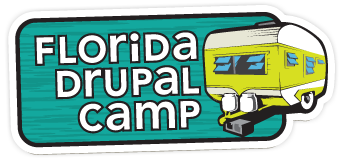 DrupalEasy is proud to announce that we're a Gold sponsor for Florida DrupalCamp 2010 to be held February 20-21, 2010 at the offices of Mind Comet in Altamonte Springs, Florida (outside of Orlando).
In addition to being sponsors, both Ryan Price and myself are active in the organization of the Florida Drupal User's Group as well as Florida DrupalCamp 2010.
The first day of the camp will feature three tracks of sessions, including one aimed squarely at people new to Drupal. This beginner track will start with the basics of installing and understanding Drupal and cover a range of topics (CCK, image handling, Views) to get people excited about using Drupal.
In addition, we'll have two tracks of intermediate and advanced sessions covering topics from advanced module usage, scalability, taxonomy, and module development. You can check out all the discussion about the possible sessions on the Florida g.d.o. page.
Then, on Sunday, February 21, we'll be having a "Coding for a Cause" day where we'll all get together and build a web site for a Florida-based non-profit organization. This will be a great opportunity for everyone to participate: beginners will be teamed up with a seasoned developers and designers to complete various tasks for the site.
We're still looking for a suitable organization to build a site for - if you think you might know of one, please direct them to our application page where they can learn more about it.
This week we're doing a "registration sprint" in an attempt to get a handle on how many people to expect at the camp. If you're interested in attending, head on over to the official site and click on the "Register" button. We're charging a small fee ($6.11) this year (mainly to get an accurate head count), but if you're a student or a non-profit, we'll let you register for free.
Finally, I have to thank all of our sponsors - we've more than quadrupled the budget from last year's Florida DrupalCamp thanks to all of our great sponsors - that means better food, drinks, giveaways, and more comfortable chairs!
Hope to see everyone there!
Comments
Hi Mike!
I had heard about drupal a long time ago, but never had the time to get in to it. I do concrete5 now mostly, but I see a need for drupal as well. I think I am going to try to make it to the conference!
In fact, I am going to be setting up an intranet at my office soon and plan on using drupal. I never how much functionality was built in to it.
See you on Tuesday.