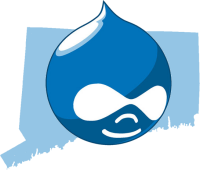 DrupalEasy is one of the sponsors of this Saturday's (August 28, 2010) first-ever Drupal Camp Connecticut, to be held at Yale University in New Haven. The camp sold out with about 175 attendees a few days ago, so if you don't have a ticket, you might be out-of-luck (you can always try begging).
Mike Anello from DrupalEasy (born and raised in Connecticut!) will be presenting three sessions:
Jeff Robbins from Lullabot will be giving the keynote, titled Beyond Web 2.0. Always an entertaining speaker, Jeff's keynote is not to be missed.
With current DrupalCamps getting larger and more organized, attending one is a great opportunity to meet other Drupalists in your geographic area. It's also a great opportunity to increase and share your knowledge about Drupal. Perhaps the best thing about DrupalCamps is the the opportunities for business networking and making your local Drupal community stronger.