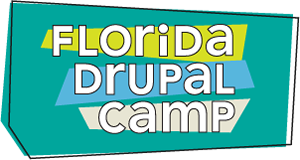 As the planning for Florida DrupalCamp 2011 winds down (the event takes place February 12-13, 2011), I thought it would be a good time to share the incredible success we've had with forming partnerships and finding sponsors to (hopefully) pull off an amazing Drupal event.
The Florida Drupal user's group skews a bit toward the "newbie" side of things - while we have a small number of dedicated volunteers who carry the Drupal flag throughout the year, but our annual DrupalCamps are very well attended. In order to pull off a large event with a minimum of volunteers, we've come to depend on our partners and sponsors.
Partners
With only a handful of volunteers working week-to-week on the planning and execution of DrupalCamp, we've found that finding great local partners one of the keys to our success. We found a local university's business and non-profit center (Rollins College) that was willing to help us with an amazing location (for free) and outreach. We're working with a local computer society (and 501(c)(3) organization - Central Florida Computer Society [CFCS]) that provides a mechanism for us to handle finances as well as provides an army of volunteers to help with registration, as runners, and to help answer general questions. We're also working with the Orlando Social Media Club (OSMC) to help bring in additional social media speakers and to help with community outreach for the camp. 
In each case, we're trying to do as much for the organization as they're doing for us. For the Rollins Philanthropy & Nonprofit Leadership Center, we've providing an extremely low-cost ($10) day of talks for their members. For CFCS we're providing exposure for their organization as well as technical support for their (soon-to-be Drupal) web site. OSMC is getting a venue for their speakers and members to interact.
Sponsors
Like most recent local DrupalCamps, in order to keep costs as low as possible, we've depended on both local and national sponsors to help us off-set the costs. To be honest, finding sponsorships for a DrupalCamp isn't all that difficult. I've found that by staying active in the local Drupal community and networking at DrupalCons is just about all that is necessary. When the time comes each year to ask potential sponsors, a clear sponsorship levels document and a personal phone call or email message goes a long way. Additionally, we ask for cash first. If a potential sponsor is interested providing an in-kind sponsorship, we normally defer until such a time that we raise enough cash to cover our budget. The last thing we want to do is devalue (or appear to devalue) a cash sponsorship (there's a reason Cash is King).
This year we doubled our sponsorship rates and added a top Platinum-level sponsorship for $2,000 and limited to a single sponsor (MindComet, this year). This sold in less than a week (and we even had additional sponsors interested). We also found five Gold-level sponsors ($1,000), as well as over a dozen other lower-level sponsors. Overall, we've raised over $8,000 in sponsorship money.
Finally, we introduced the idea of an individual sponsorship this year. There have been a number of individuals in past years who have wanted to help out more, but can't due to time-constraints. Providing these individuals with an easy way to give a little more money has proved extremely successful. 
Conclusion
Clearly, the we've been extremely lucky to be able to find the partnerships and sponsors that we have. But, perhaps it is more than luck - by having a number of dedicated volunteers who stay active in the local and national Drupal community, we've been able to leverage our connections to organize great events.
If you're in central Florida this weekend, be sure to drop by and say hello!
Comments
[...] DrupalCamp Partners and Sponsors | DrupalEasy drupaleasy.com/blogs/ultimike/2011/02/drupalcamp-partners-sponsors – view page – cached Select ratingPoorOkayGoodGreatAwesome No votes yet As the planning for Florida DrupalCamp 2011 winds down (the event takes place February 12... [...]