We're a little over halfway through the second edition of the DrupalEasy Career Starter Program (DCSP), and in addition to learning the Drupal basics, our twenty students have also been learning how to leverage the various "satellite technologies" in the Drupal universe (Git, IRC, SSH) to interact and contribute to the Drupal community.
In case you're not familiar, the DCSP is a 20-week program that is aimed at jumpstarting our students' Drupal careers with 10 weeks of classroom training followed by a paid internship with an organization that uses Drupal. We call it "multi-modal" training because in addition to the classroom training, students are also assigned a community mentor, participate in mandatory lab hours, contribute back to the Drupal community, topped off with real-world experience in the form of an internship with one of our WE Drupal host organizations.
This post will focus on the community contribution portion of the program - I'm pleased to report that after only six weeks of classes, our students are starting to make an impact in the community. The students are participating in over 90 Drupal.org issues (including a few core issues), have updated over 20 pages of documentation, and have several commits (with a whole slew of patches waiting for approval). All this from people who, for the most part, couldn't even pronounce "Drupal" a couple of months ago.
How did we get our students up-to-speed so quickly? One big factor was the addition of mandatory lab hours to this year's DCSP. Once a week for four hours, the students gather in a room to work on various assignments and/or community contributions. For the first five weeks, the lab hours assignments focused on the Drupal Ladder and learning how to use IRC, Git, and SSH. This week, based on a suggestion from Ryan Price (liberatr), one of our community mentors, we asked each student to write a "lab hours goal" on a white board at the beginning of the week's lab hours session. By having each student select, announce, and post their goal, it really focused students to accomplish a specific task by the end of the period.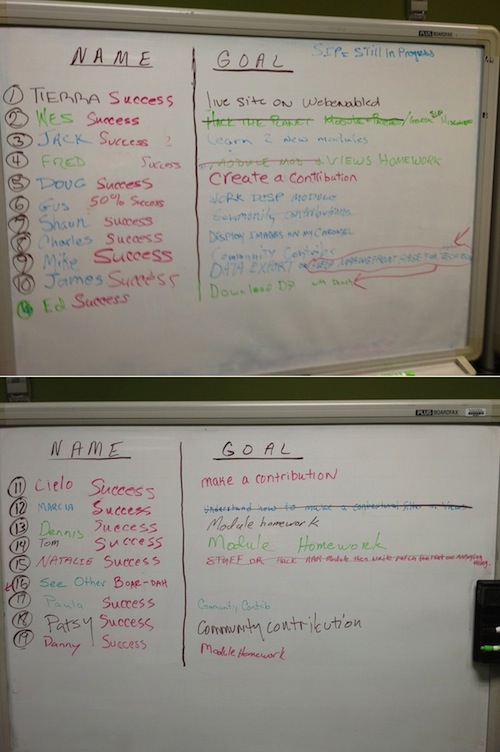 In addition, we made every student's secondary goal to help someone else with their goal. I'm a firm believer that the best way to learn something is to teach it to someone else. By refining our lab hours in this manner, we saw immediate and profound effects.
In the first lab hours session with the new "post your goal" system in place, we saw 19 out of 20 students reach their goal completely! Goals included community contributions, learning to use a particular module, and completing a DCSP module development homework assignment.
It has been easy to see the students' confidence increase as their successes start to pile up. We have students practically taking over some modules' issue queues (comment notify and entity forms among them), posting patches, building volunteer web sites, and looking for more ways that they can get involved in the community based on their current knowledge level.  We fully expect this pace to grow throughout the second half of the training portion of the DCSP. To assist with that, we're back to having twice-monthly Drupal user group meetups in order to maximize the momentum. Based on what we've seen so far, we can't wait to see what they do next!