The DrupalEasy Career Starter Program (DCSP), a one-of-a-kind 10-week, multi-modal Drupal training program is proud to announce the graduation of all 20 of our students from the class of 2012. This is the second year of the DCSP in Brevard County, Florida and we're excited to watch this year's graduates become (even more!) active Drupal community members and developers.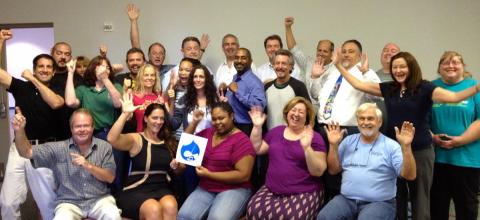 Through a grant from Brevard Workforce, the DCSP's goal was to retrain 20 unemployed IT professionals and turn them into Drupal professionals. With the retirement of the Space Shuttle fleet in 2011, approximately 8,000 skilled workers lost their jobs at Kennedy Space Center in Brevard County. Our available pool of talented IT professional was HUGE. This year's DCSP effort received 202 applications for just 20 slots. The vast majority of the students selected had zero Drupal experience coming in. The rest of this post will give you an idea of how much Drupal knowledge and experience they have going out...
The class of 2012 is:
Collectively, the class of 2012 contributed approximately 1,000 hours of volunteer time to the Drupal community. While much of that time was spent climbing the Drupal Ladder and learning the ins-and-outs of Drupal issue queues, we did have a moderate amount of success:
Participated in well over 100 Drupal.org issues
More than 20 Drupal.org documentation edits
Numerous patches awaiting review/commit by module maintainers
We were lucky enough to be within driving distance of two DrupalCamp events (South Florida and Atlanta) during the month of October, and the vast majority of the class was able to attend at least one of the two events (some attended both!) and two of our students presented sessions at DrupalCamp South Florida. In all cases, students that attended these events came back with a greater appreciation for the community and motivation to get even more involved. Additionally, a number of DCSP students (and teaching assistants) participated in the two code sprints at DrupalCamp Atlanta and were recognized during the camp's opening remarks.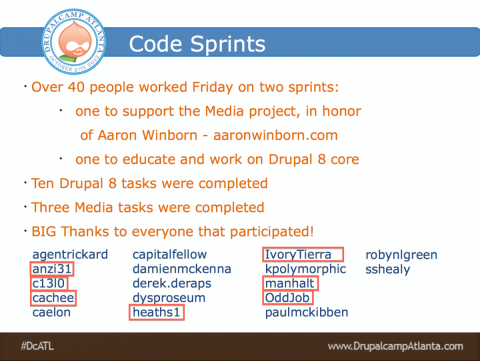 The DCSP's unique approach to Drupal training includes a heavy dose of Drupal community involvement. During the 10-week training program, each student is required to:
Attend 70 hours of classroom training
Attend 40 hours of lab hours
Work one-on-one with a Drupal Community mentor http://drupaleasy.com/dcsp/drupal-community-mentors
Contribute 50 hours of time to the Drupal community
Complete the first 5 rungs of the Drupal Ladder http://drupalladder.org/
Complete numerous homework assignments and three mini-projects
Periodically check in with instructors via IRC
The students are provided with PDF lesson guides and reference documents for each lesson, and selected lessons also include related DrupalEasy-produced screencasts. 
The goal of the DCSP is not to teach students everything there is to know about Drupal, rather it is to provide knowledge and a strong foundation of Drupal core and selected modules while also exposing students to some of the various niches that they may want to focus on in the future (module development, theming, distributions). In addition, students spend time learning about all the various "satellite" technologies related to becoming a professional Drupal developer including IRC, SSH, Git, CSS, PHP, and Drush. 
Our approach to community involvement is simple - start by having the class interact with each other online via IRC and class forums, then slowly expand the circle to the local, state, national, and international community. 
In the coming months, we'll be looking to expand the DCSP to areas outside of Brevard County, Florida. Interested in learning more? Check out more information about the DCSP at http://drupaleasy.com/dcsp.