Florida DrupalCamp 2013 took place on April 20 and 21, 2013 at the Florida Technical College in Orlando, Florida. Attended by almost 300 people, the camp featured 42 sessions, a fantastic keynote by Ryan Szrama (rszrama), 30+ volunteers, great food by 4Rivers, and four lucky organizations who benefitted from the all-day Coding for a Cause event. This was central Florida's fifth consecutive annual camp, and by all indications was well-received by everybody who attended. As is our custom, this blog post will serve to wrap up all aspects of the camp, including things that we could (should?) have done better.
As with most Drupal events, our camp would not have happened without all the hard work from our all-volunteer staff. While the Florida Drupal Community is spread out over a state that takes 14 hours to drive from Pensacola to Key West, when it comes to organizing a camp, we act as one group with a common goal: to put on the best camp anywhere. With weekly conference calls starting months before the event to our constantly active Open Atrium group, our volunteers take ownership of their tasks and have always delivered.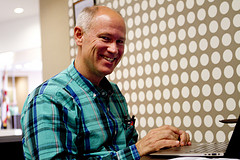 This year's group of volunteers added a new wrinkle to our camp - a good number of the organizers hadn't participated in previous year's camps. With the guidance and encouragment of the other organizers, this "fresh blood" added welcome energy and ideas to our groups. One of these new members is Tom Nguyen (tom_nguyen), who found, secured, and managed communication with the venue for this year's camp. When our previous host informed us that they were unable to host the 2013 edition of the camp due to building renovations, we spent several long weeks talking about potential venues, but it wasn't until Tom stepped up and visited some potential locations that we gained real momentum.
Venue
We could not have been happier with Florida Technical College and their staff's willingness to work with us to make this event a success. While the venue wasn't perfect (the auditorium wasn't large enought to hold everyone), virtually everything else about it was ideal. A large, conveniently-placed student lounge, a virtually unlimited supply of classrooms equipped with projectors and screens, more-than-adequate WiFi (always a big concern), ample free parking, all while being compact enough to encourage networking and discussion. Did I mention that it was free? Amazing, we know. The staff couldn't have treated us nicer, and we look forward to working with them again in the future.
Sessions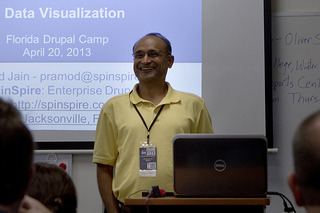 I'm really going to try to be unbiased about this next topic, but it's going to be difficult. I've been to many DrupalCamps up-and-down the East Coast of the United States (and one in Europe) and I really believe that this was the highest quality lineup of sessions that I've ever seen at a camp. Our keynote was given by Ryan Szrama, lead developer of Drupal Commerce and Commerce Guys' VP of Community Development. Our all-day beginner track was presented by OSTraining, in addition we had 35 other sessions on topics ranging from running a Drupal shop to CSS/SASS/Compass to module development to Drupal 8. Don Vandemark (caelon) worked tirelessly to reach out to high-quality speakers around (and outside) the state. In addition, Shaun Heath (heaths1 - another newbie) arranged for a (large) portion of the sessions to be recorded by Utzu Logigan (durasro) of Davram Tech and will be made available online (soon!)
Registration
Our largest headache with the camp was the registration system. We messed up big-time in launching the site too quickly without fully testing the registration system configuration. While it worked great for individuals registering themselves, it failed more than it worked with attempting to register more than one person at a time. While we did determine the issue a couple of weeks into ticket sales, we were nervous about making any changes and risking the possibility of making things worse. Therefore, it fell on one of our volunteers to patiently answer emails from people having issues with registration and walking them through the process. In addition to this, Mike Herchel (mherchel) was also in charge of the marketing for the camp, spending countless hours sending emails, reaching out to other tech groups, and getting the word out through all possible means. Mike also stepped in to help with numerous other tasks - every camp needs someone like him who just gets stuff done (no, you can't have him).
Giveaways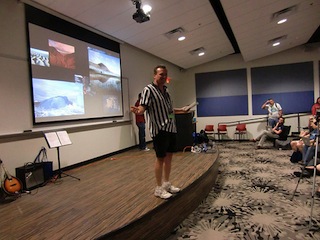 As if our attendees weren't getting enough for their registration fee, we had an amazing group of in-kind sponsors that provided books, DVDs, and other merchandise that was used in giveaways during the camp. Our official Florida DrupalCamp giveaway referee, Doug Hercules (dhercjr - another newbie), ran around blowing his whistle and making people participate in silly games all while handing out almost $1,000 worth of merchandise, including over 50 Drupal-related books.
Web site
The Drupal 7, COD-based (Conference Organizing Distribution) web site was a hand-me-down from DrupalCamp Atlanta with new content and a new theme. The theme was designed by Mike Herchel (yeah, the same guy) and implemented by himself, Adam Varn (hotsaucedesign), Erik Baldwin (BLadwin), and Jason Taber (companyguy). The site featured some amazing CSS3 animations and a fantastic responsive design that made the online session schedule super-easy to use. Linda Cook (lscook) and Dennis Solis (densolis - another camp organizer newbie) wrote virtually all of the content for the site while Andrew Riley (Andrew M Riley) and John Learned (JCL324) configured the site for our camp. The big takeaway from this year's camp is to build and test the full functionality of the web site early. Really early. And test the pants off it.
Design
When it comes to designing our camp, we take a holistic approach and have a separate design committee that oversees all printed and electronic material to ensure consistency and professionalism. Erik Baldwin led this committee, working with numerous other volunteers including Cielo Johnson (C13L0 - another newbie), Roland Riddell (rols), Sandy Milligan (sandym), Phil Smith (SiliconValet), David Cruz (dimmech), Dorothy Cleary (dbdot), and Dustin Cooper (dustinjcooper). The groups designed badges, printed schedules, signs, t-shirts, and swag bags - all branded with the Florida Drupal Diver.
T-shirts
Roland Riddell also worked with the rest of the design committee to come up with a fantastic t-shirt design that tied all of our branding together. With the first-ever (someone check me on this) giant octopus gracing the front of our t-shirts, and a school of fish (sponsors) on the back, this year's t-shirt design is our best yet (so long, camper!) One of the original Florida Drupal Group members, Joe Moraca (joemoraca) found a suitable vendor and ensured we had the t-shirts on-time (thanks to Mike Herchel, again).
Sponsors
As with most Drupal events around the world, there's no way we could have provided all of this for $25 without the crazy-generous support of our sponsors. Topping them off is Mediacurrent - within 8 minutes of my sending a sponsorship request message to Dave Terry, he had claimed the Platinum sponsorship: an amazing way for us to start our fund-raising drive. Mediacurrent's close relationship with Florida (about 10 of their employees are Florida-based) is one that we value greatly. In addition, we had four Florida-based Gold sponsors: Educational Data Resources, Big Couch Media Group, Digital Frontiers Media, and Purple Rock Scissors. A full list of all sponsors can be found at http://fldrupalcamp.org/sponsors. All told, our sponsors provided over $10,000, and we can't thank them enough.
Fiscal Partner
For the fourth year in a row, the Central Florida Computer Society acted as our fiscal partner. Bringing us in under their 501(c)(3) umbrella, providing accounting support, and providing the most friendly day-of volunteers we could ask for. It's a continuing partnership that we value greatly.
Budget
The overall budget for Florida DrupalCamp 2013 was a bit more than $16,000. Income came from sponsors (approximately 70%) and ticket sales. Once again, we managed to keep ticket prices at a minumum, offering an earlybird price ($20) to about half of the registrants, and including food, t-shirt, and a recyclable swag bag in the cost of a registration. Our largest expense was food ($8,000), followed by session recordings ($3,000), and t-shirts (~$2,500). The remainder of the expenses were for printing, marketing, and miscelleanous expenses. Overall, it looks like we'll have a small surplus that we'll use as seed money for future Florida Drupal events.
Food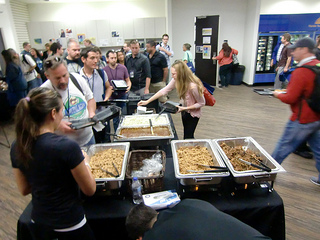 As with other aspects of our local community, we are so lucky to have someone who volunteers to take on a task of this magnitude, then follows it through to the end, year-after-year. Angela Cacciola (PrincessAng417) once again took on the catering task, provided us with numerous options, put up with our ridiculous questions (seriously, why can't we have a milkshake bar?), and made it all look easy. This year's camp was catered by 4Rivers, a local BBQ resturant that was amazing. They provided a breakfast buffet (sorry we ran out of coffee!), a great lunch, snacks in the afternoon, and drinks all day. It was seemless, easy, and we had leftovers. Sweet.
Code Sprint
Albert Volkman (Albert Volkman) and Kevin Basarab (kbasarab) organized a full-day code sprint the day after the camp that mainly focused on Twig in Drupal 8 issues. A number of potential new contributors were on-ramped to reviewing issues, creating and reviewing patches, and the core contribution mentoring process.
Coding for a Cause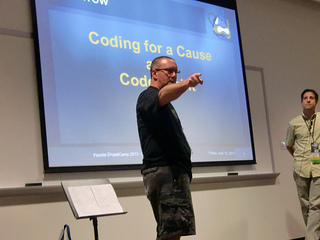 Once again, the Florida Drupal community was clear in their desire to give back to the community. This year, four non-profit organizations were selected to take part in our Coding for a Cause event, where volunteers get together for a full day of site building for each organization. Over 40 people participated in the event - check out this post for details on each organization's project. Ben Hosmer (bhosmer) led a team of volunteers in making it all happen, including project managers Maggie Ardito (marguerite), Ryan Price (liberatr), Robert Laszlo (laszlocore), and Dawn Borglund (dborglund).
Conclusion
The Florida Drupal Community continues to lead the way in organizing a completely volunteer planned and run event whose mission it is to spread knowledge and confidence in using Drupal. We recently sent out a survey to all attendees, I look foward to sharing the results of that survey in a future blog post, although I'm confident in what the results will show. Compared with our 2012 effort, we definitely improved in several areas:
Caroline Achee (cachee), Karan Garske (karang) and Natalie Roberts (anzi31 - first time volunteer) ensured that our day-of registration lines flowed smoothly and quickly. Last year's was much less-than-ideal, and the changes we implemented this year (multiple lines, including two people dedicated to registration issues) were exactly what we needed.
Don Vandemark found us a great location for our afterparty. It was more than large enough to hold all of us, provided reasonably-priced food and drink, as well as promoted networking that continued for hours after the sessions ended. This is something we'd lacked at previous camps, and the difference was amazing.
We worked with the catering company to ensure there were multiple lines for everything to keep the traffic flow moving. Less waiting in lines meant more time for people to talk about Drupal!
Overall, it was a weekend that the Florida Drupal Community can be proud of!
Photos by Kevin Basarab, Hewie Poplock, Bryan Buxton, and myself (Michael Anello). Thanks to Doug Hercules for helping out with this post!