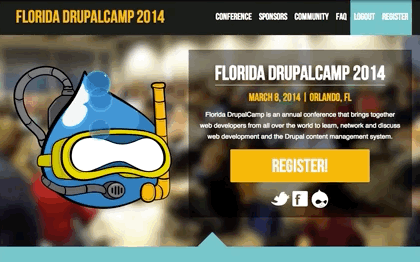 For the sixth consecutive year, Florida DrupalCamp will be one of the largest gathering of Drupal users in the southeast United States. Taking place on Saturday, March 8 (sessions) and Sunday, March 9 (community day), there's no better way to level-up your skills, network with the Drupal community, and to remind you how awesome it is to be involved with this amazing project. Along with numerous other organizations, DrupalEasy is once again proud to help to sponsor and organize Florida DrupalCamp. Our amazing team of organizers from around the state (as from outside of Florida as well!) has decided to rethink a couple of the standard DrupalCamp "things" in an effort to make the event more productive for attendees and sponsors.
First off, say "goodbye" to a single keynote speaker - say "hello" to four amazing "featured speaker" sessions on four different Drupal 8 topics. Rather than trying to find a single keynote speaker and topic that would appeal to everybody, we decided to focus on getting our community up-to-speed with Drupal 8 by creating a day-long track with some of the main contributors of Drupal 8. We've already announced that Jen Lampton and Larry Garfield will be providing double-length sessions on twig and Drupal 8 development, respectively. Over the next two weeks we'll be announcing two more awesome "mystery" speakers that will complete our Drupal 8 track.
Anyone who has attended a DrupalCamp knows that the sessions go a long way toward deciding if a camp is worth the time, travel, and expense. While we've always allowed community members to submit session proposals for sessions they'd like to give, this year we're adding a new option - the ability for attendees to propose sessions that they'd like to see. If you're looking to attend our camp, and there's something you'd like to see presented, request a session, and we'll do our best to find a community member to present on the most popular requests.
Registration and session proposals are now open, the early-bird price to register is $25 - don't delay, because we'll be raising it soon (but we're not going to tell you when). Your ticket gets you a camp t-shirt, entrance into all the sessions, and food and drinks throughout the day (and possibly unlimited bacon). Head on over to the coolest DrupalCamp web site you've ever seen to reserve your spot.
On Sunday, March 9, we'll be having our annual "community day", where we'll be working with select local non-profit organizations in our Coding for a Cause effort to help build (or re-build) their web sites on Drupal. We'll also have multiple code sprints and opportunities for you to learn how to increase your streed-cred by contributing your knowledge back to the Drupal community.
Florida DrupalCamp 2014 will be our second year in a row at the Florida Technical College (FTC). Conveniently located in east Orlando, FTC provides loads of free parking, easy access to major highways, and a staff that couldn't be happier to help us welcome Drupalers from near and far.
Once again, Drupal-related organizations from all over the country have shown their support for Florida DrupalCamp by providing generous sponsorships. Mediacurrent is once again a Platinum sponsor, while Mandrill, Digital Frontiers Media, Lingotek, and Big Couch Media Group are our Gold sponsors. Sponsorship opportunities are still available - we'd love to have your organization participate and benefit from Florida DrupalCamp 2014.