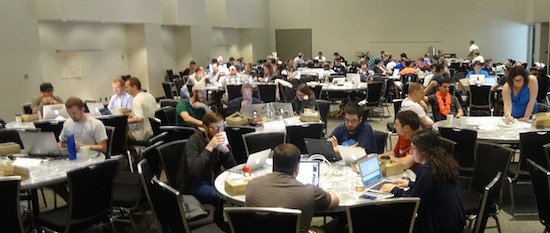 Have you always wanted to get involved with Drupal core development but don't know where to begin? Have a Drupal 6 site that you're looking to upgrade to Drupal 8? The Drupal 8 Migrate in Core initiative aims to provide a robust and extensible migration path from Drupal 6 and Drupal 7 to Drupal 8. A lot of work has already been done, but we're looking to increase our throughput by training up some testers and developers to contribute to the cause.
To that end, we've planned two in-person events and an ongoing virtual event where you can get some facetime with other contributors to get you up-to-speed on the current progress and how you can help. Development experience isn't required! It takes all types of contributors to complete a project of this scope. We have opportunities for manual testing, documentation writing, UX, theming, patch testing, and patch creating. If you need more of a challenge, I'm sure that chx, benjy, and mikeryan can find something for you to sink your teeth into!
If you can't wait to get started, please check out how you can properly configure your system in order to contribute. Even if you just want to do some manual testing, you'll want to check this out. Once your system is ready to go, then find me in IRC (#drupal-migrate) or find us at an upcoming event.
DrupalCon Amsterdam
Ryan Weal will be the team leader on the ground at DrupalCon Amsterdam. He'll be camped out at the official sprint locations on the extended sprint days as well as the day prior and after the 'con (September 27, 28, 29 and October 3, 4, 5). Friday, October 3 is traditionally the largest sprint day of them all, so if you have any experience with contributing to Drupal core, let Ryan know and he'll likely put you to work helping out new contributors.
Christian López Espínola (penyaskito) will also be attending the Amsterdam sprints in-person, focusing on Migrate in Core multilingual issues. If you've got a Drupal 6 or 7 multilingual site that you're thinking about migrating to Drupal 8, now is a great time to get ahead-of-the-curve.
If you're planning on attending and participating in the sprints, please be sure to sign up on the Sprint Attendance doc (find the "Migration testing" section). A number of the main contributors will be participating virtually, so we hope to make some good progress during this sprint.
DrupalCamp Atlanta
On Saturday, October 4, at DrupalCamp Atlanta, I'll be leading another sprint that aims to kickstart new contributors into on-going roles in the Migrate in Core project. I'm planning on working with volunteers to get them up-to-speed with the overall migration system, and matching their skills up with current tasks including manual testing as well as testing and creating patches. I'll also be presenting a session at the camp on the current status of Migrate in Core in Drupal 8 that should provide a good primer for those thinking about helping out.
Virtual Drupal 8 Migrate in Core Office Hours
I'm living proof that best intentions often go awry. Over the past several years, I've flirted with core contributions, but it wasn't until I found a few nice folks to show me the ropes for the first few weeks that I was hooked. My goal is to repeat the process I went through for as many people as possible (hopefully with much fewer pain-points though!)
With that in mind, I'm happy to announce that starting Wednesday, September 24, I'll be hosting virtual office hours for new Migrate in Core contributors. If you're interested, please use the contact form or hit me up @ultimike to let me know and I'll get you all the details. I'm planning on running it from 7-9pm EDT. Immediately following, at 9pm EDT on Wednesday evenings is the weekly Migrate in Core Google+ Hangout where we do a quick overview of the current state of the project.
Let's Get This Done!
I'm planning on writing a series of blog posts to help new contributors compress the amount of time it takes them to have a good understanding of how the migration system works under-the-hood. Look for the first post next week.
The Migrate in Core project is destined to radically increase the adoption rate of Drupal 8, especially for Drupal 6 sites that are getting a bit long in the tooth. By getting some experience with it early, you'll be in a great position to help existing and future clients in making the move to Drupal 8.
Comments
Nice post, you got me to sign up!