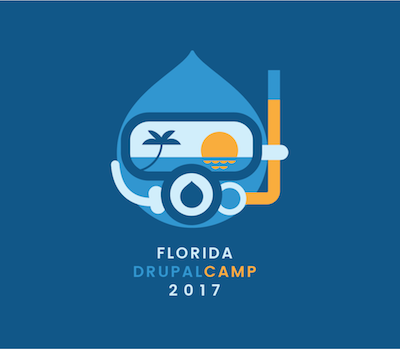 We're taking it up a couple notches this year down in Orlando for the 9th Florida DrupalCamp! We're expanding in every dimension we can find - highlighted by an opening day (Friday) of full-day workshops followed by two days (Saturday and half-day Sunday) of sessions!
Amazing Trainings
In previous years, we've had concurrent trainings on Saturdays and some sprinting on Sunday. This year, we changed it up: Friday will be a full training day including workshops on:
Beginning React JS - taught by John Tucker
Docker for Development with Drupal - taught by Lisa Ridley  
Introduction to Drupal 8 - taught by DrupalEasy's own Michael Anello  
Introduction to Drupal 8 Theming - taught by Suzanne Dergacheva
Introduction to DrupalVM - taught by Ben Hosmer
The best part is that trainings are included with the price of the ticket (now $35). You sign up for the training when registering. Space is limited, however, so register soon!
Three Phenomenal Featured Speakers
We have three amazing featured speakers this year!
Many More Extraordinary Sessions and Speakers
We have over 30 sessions already submitted with several weeks to go until the deadline. We still need more. Check them out and submit your session soon.
Kick-A** Weather
Orlando in February. Sunny and warm :)
The Absolute Best Sponsors Ever
It's true, we have the best group of sponsors money can't buy! We're crazy-happy about having Achieve Agency as our top-level Platinum sponsor. This newly formed South Florida shop is looking to make a big splash in the community, and we're happy that we can help introduce them to everyone. 
Combined with Johnson & Johnson, devPanel, and Digital Echidna as Gold-level sponsors as well as all of our other amazing supporters (including DrupalEasy!), we're excited to bring you the biggest and best Drupal event you've ever seen (not to mention a few fun surprises!)
Lots More Sensational Stuff!
From a new logo, great catering, t-shirt, giveaways, and even an integrated video game easter-egg on our website, there's lots to be had. Don't miss it!  Register today or regret it for the rest of 2017!