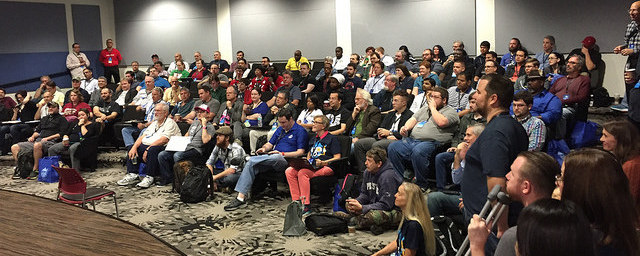 Last weekend the Florida Drupal community hosted its ninth annual Florida DrupalCamp (FLDC) at Florida Technical College in Orlando.  It was a great success. At this point, we (the organizers) have a pretty good idea how to put on this event. (Since a good number of us have been involved in all nine iterations, (and all still seem to like each other!) some aspects of the camp organizing process are on veritable auto-pilot.
If you're a camp organizer, you know what goes into securing sponsors and a location, spreading the word, finding presenters, arranging for swag and catering, etc… For this year's event, we wanted to step things up a bit by focusing on three things: more learning, more fun, and more networking. Based on feedback and our own experiences, we feel like we achieved all three goals with some changes from previous years' camp recipes.
More Learning
In the past, FLDC has been a 2-day event; Saturday has been the main event - a day full of sessions, while Sunday has been a "community day" with sprints, Coding for a Cause, BoFs, and a generally less-defined schedule. 
This year we decided we stepped it up to a full-on three-day event; full-day training workshops on Friday, sessions on Saturday and Sunday, as well as a professionally mentored code sprint on Sunday. 
With the generosity of five trainers, we were able to provide full-day workshops to almost 80 people on Friday. Many, many, many thanks to our trainers: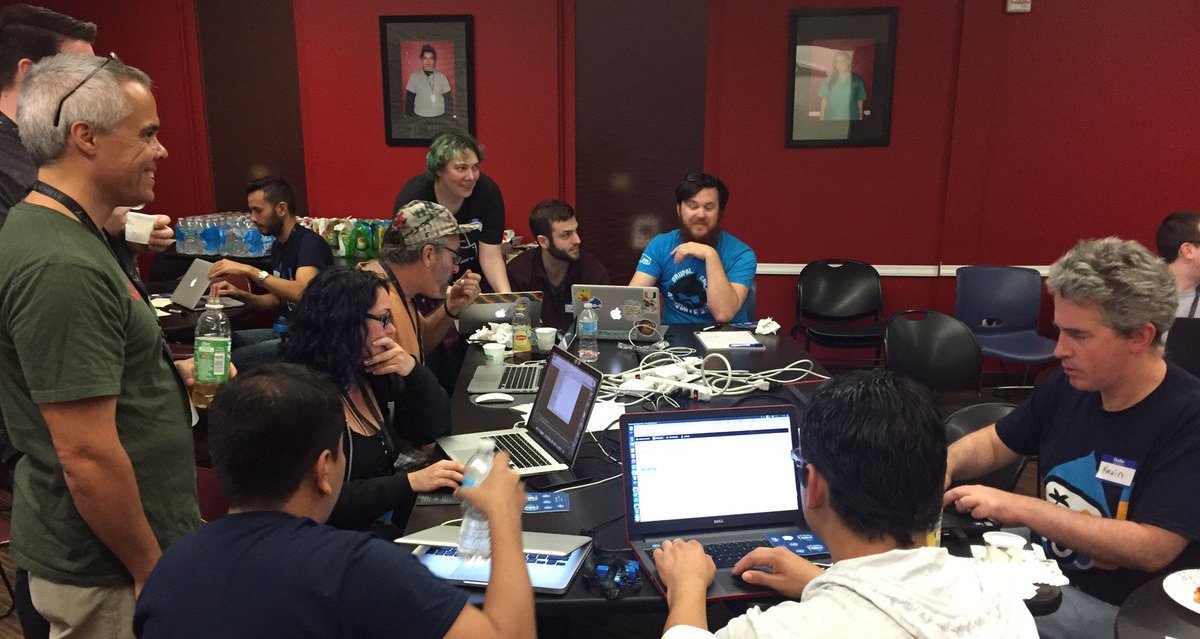 The other change to facilitate more learning is to provide experienced sprint mentors for our Sunday sprint. With a nudge or two (maybe three) from xjm, we decided to have a Major Issue Triage Sprint at this year's camp. We brought in YesCT and nerdstein to mentor the sprinters to great success. During the Sunday sprint, we were able to make progress on well over 20 Drupal core major issues.
Finally, we decided to bring in Kevin Thull (@kevinjthull) to handle all the session recording, processing, and uploading for the event. Kevin's work with recording other Drupal events is top-notch. Having all of our sessions recorded will allow those who weren't able to attend (or those who did attend but couldn't make a particular session) to be able to benefit from our speakers. All of the sessions are currently posted on our website schedule, as well as on our Youtube channel.
More Networking
Traditionally, we have always had a full-day beginner track on the main day of the camp. This had the effect of keeping the vast majority of the beginners in the same room all day - limiting their networking opportunities. By having a full-day introductory workshop on Friday, beginners became fully-involved in camp activities the rest of the weekend. The feedback we received from this change is overwhelmingly positive.
The other big-ish change aimed at more networking was to increase the amount of time between each session to a full 30 minutes. This had the side-effect of us having fewer sessions on Saturday, but was mitigated by adding a half-day of sessions on Sunday. Again, the response we received from this change was overwhelmingly positive. It provided a less "rushed" day for all attendees, gave presenters a little more leeway if they went a few minutes over their allotted window, and provided ample time for the hallway track. In addition, our sponsors loved this change, as it gave attendees more time to stop and chat with sponsors in our exhibition area. 
During the closing session, we announced that any leftover funds from the event can (and should!) be used by Florida local meetup organizers to promote and grow their local meetups. In the past, we've informally made these funds available, but we're going all-in this year. If you're a Florida Drupal meetup organizer, we have $$$ for you for meetup.com memberships, food for your meetups, or just about anything else that will help you grow your local community. Look for more details on https://groups.drupal.org/florida soon.  
More Fun
While Drupal events tend to be very positive events for all attendees, we made the conscious decision to ensure that we maximized the enjoyment of our attendees while we kept the Drupal knowledge flowing. It was also very important to us that we make a positive first impression on those new to Drupal and attending one of their first Drupal events. We wanted folks to be able to leave the event with positive feelings for the Florida Drupal community.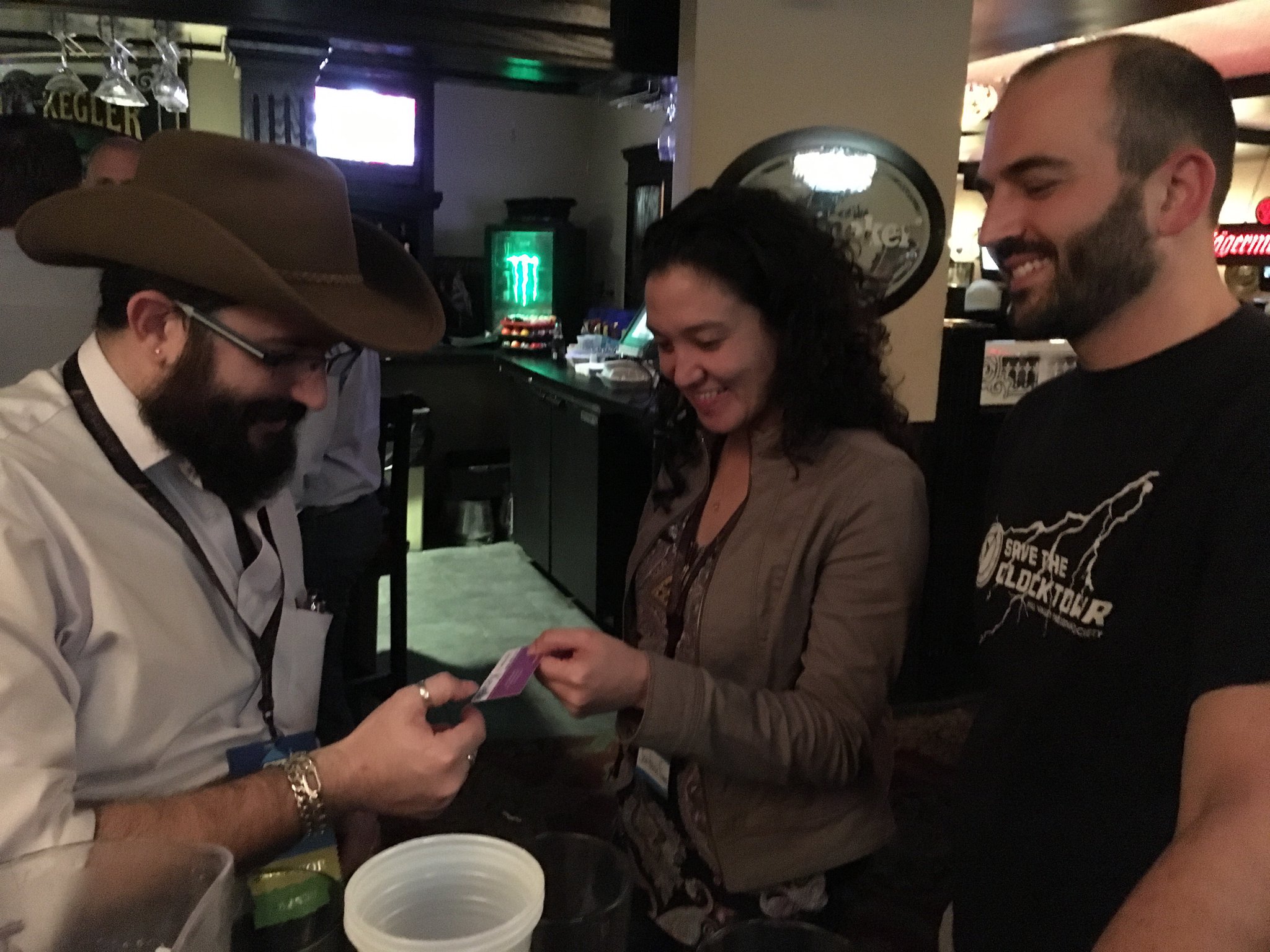 To this end, we increased the fun factor in several ways. First off, we further "official-ized" our Friday night dinner gathering. Over the past few years, organizers and a few others have always gathered at Bubbalou's a local BBQ restaurant just down the street from the camp venue after prepping the venue for the event. This year, with the full-day trainings on Friday, we invited everyone to meet up at the restaurant for a pay-on-your-own dinner. This turned into a wonderful, casual evening for well over 75 people. The restaurant has a large indoor/outdoor picnic table eating area, perfect for networking.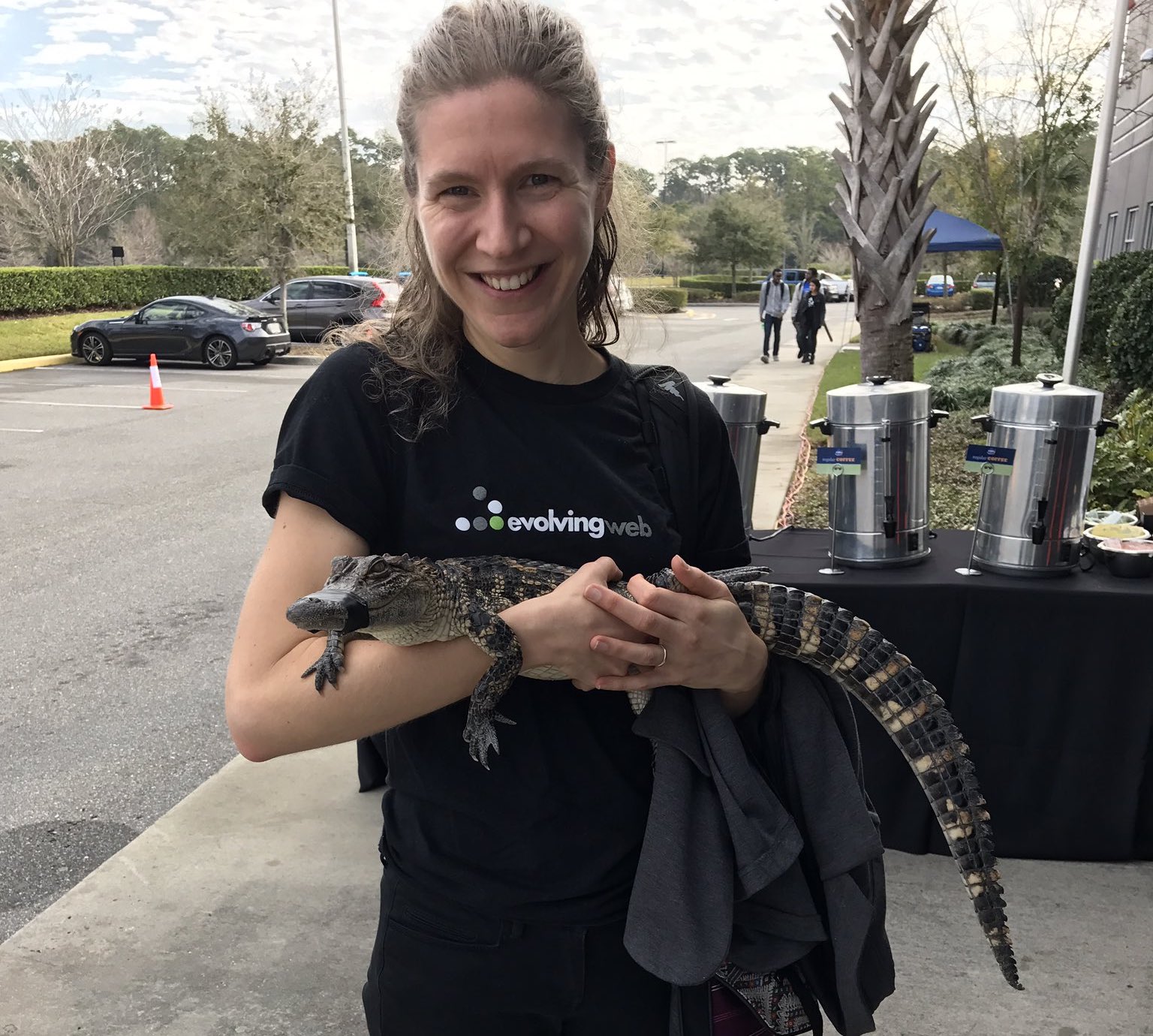 On Saturday, we set the tone early and put smiles on people's faces from the very start. We worked with the folks from Gatorland to have a professional animal handler and a friendly alligator named Skywalker on-hand to greet guests when they arrived. Many attendees went for a cuddle with Skywalker even before getting coffee.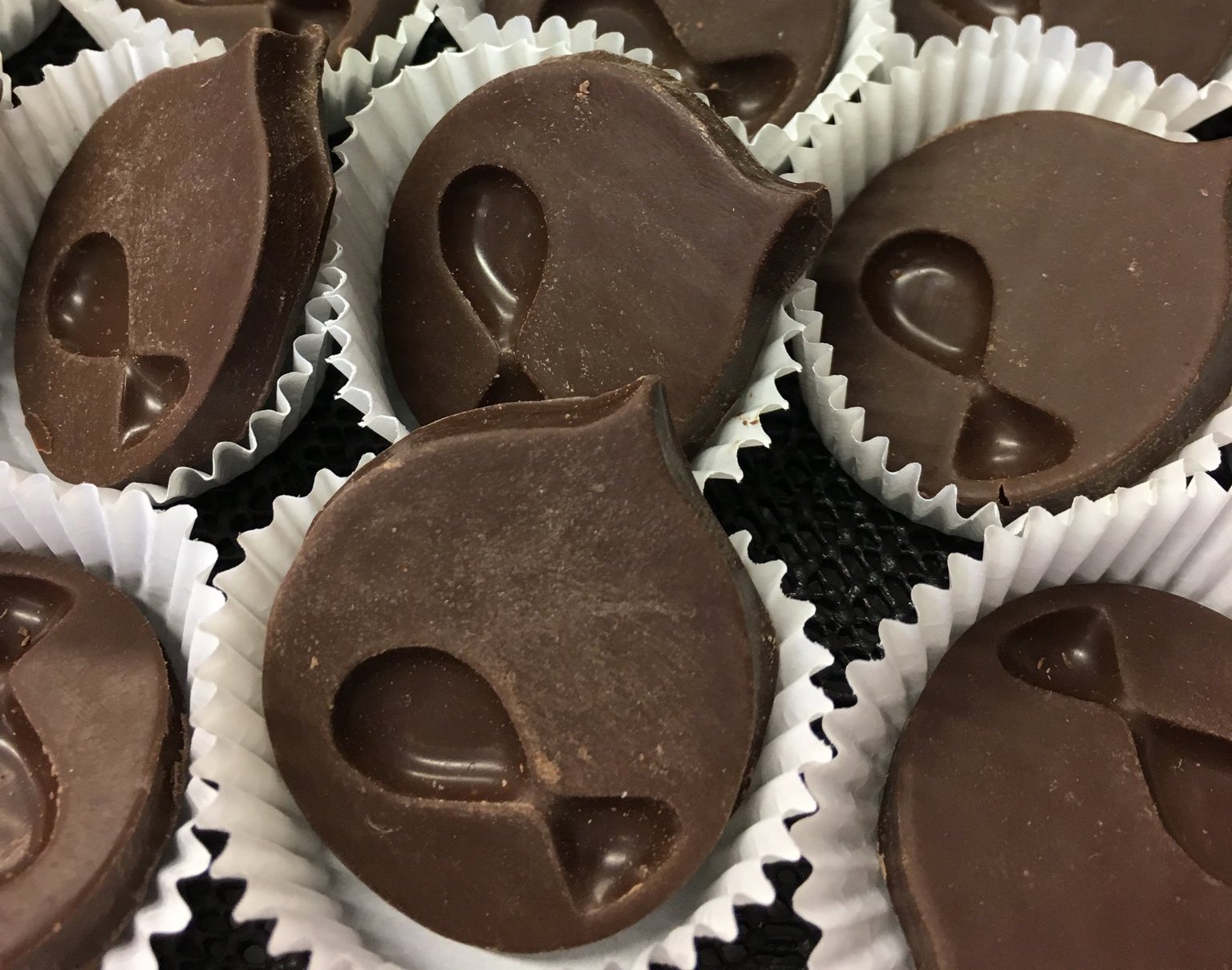 Additionally, we wanted to provide unique swag to our attendees. A former attendee of previous Florida DrupalCamps, Kathryn Neel, is now running custom chocolate business, Sappho Chocolates. We worked with her company to create Druplicon chocolates for all attendees. As part of the process, we funded the development of the custom molds for the Druplicon chocolates, so if any other Drupal event organizers want to order chocolates for their event, the molds are there for your use!
Finally, for the last Saturday session, we went with a single session of lightning talks. This ended up being one of the highlights of the weekend, as we had a some amazing 5 minutes talks. With most of the camp attendees in the room, it left everyone with smiles on their faces and provided a great transition to the closing session and after party. 
Sponsor Happiness
Most camp organizers always have trepidation about camp finances right up to the actual event. Sponsor needs have evolved as the Drupal community has evolved, and camp organizers have to evolve as well. Today's Drupal event sponsors are more focused on getting a return-on-investment from their sponsorship dollars than ever before, so it is up to event organizers to do everything they can to make that happen. 
By providing more time for attendees to visit sponsor tables as well as the opportunity for Platinum and Gold sponsors to receive an opt-in version of our attendee list, as well as all of the other "standard" sponsor benefits, the feedback from our sponsors has been very positive. Additionally, we gave Platinum and Gold sponsors the opportunity to place text ads in our emails to attendees leading up to the camp.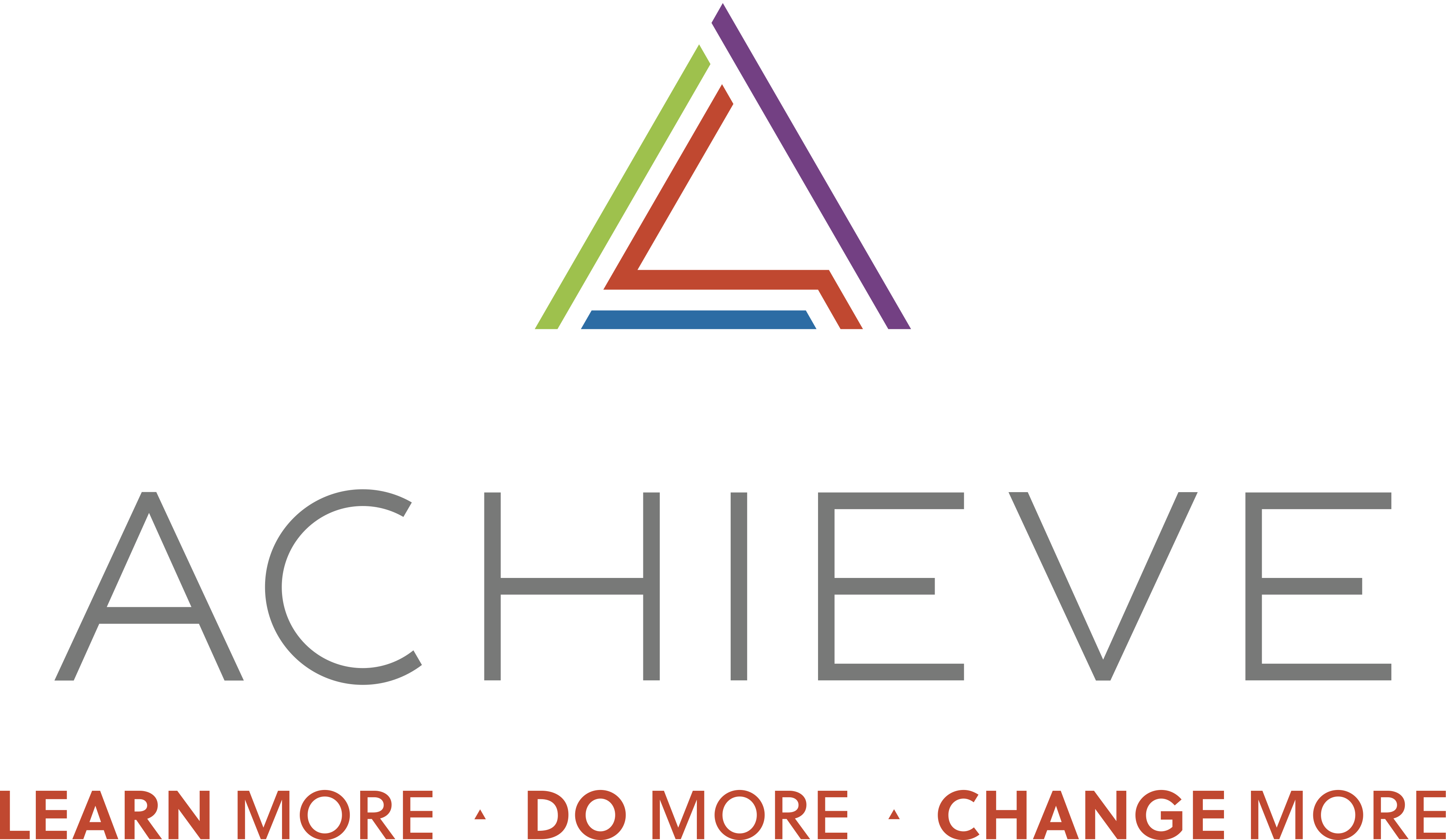 Our Platinum sponsor, Achieve Agency is a newly-formed Florida digital agency based in West Palm Beach. John Studdard, their COO (and formerly of Big Couch Media), has been a long-time FLDC supporter and attendee, and wanted to use FLDC as a vehicle to announce Achieve Agency to the community. As event organizers, we couldn't be happier that our top-level sponsor is a Florida-based organization. 
Featured Speakers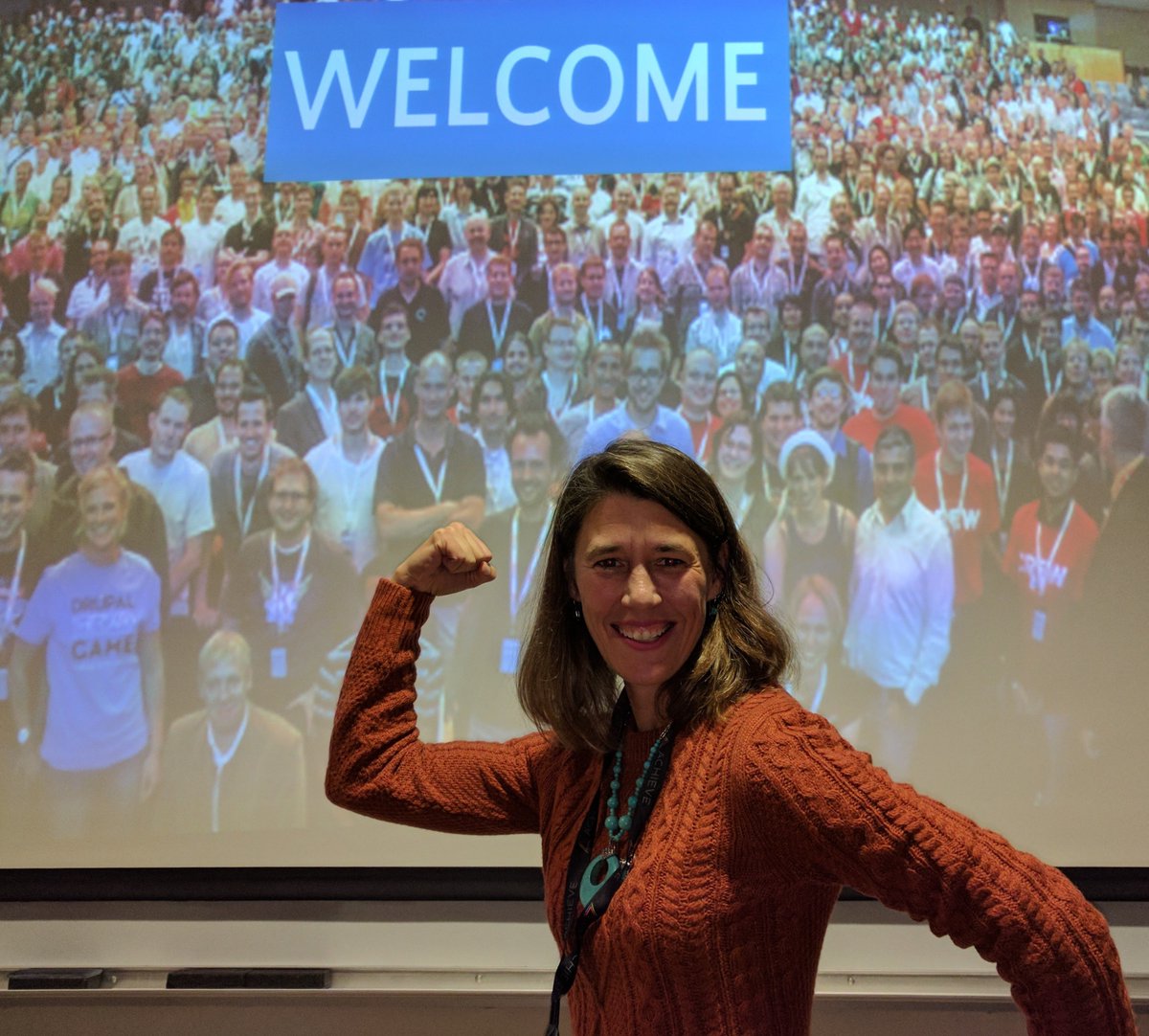 Keeping with our tradition of not having a single keynote speaker (mainly due to the fact that our venue's auditorium can't accommodate all attendees, we invited three featured speakers to this year's event. We were lucky to get our top three choices - check out their (recorded) sessions below:
Room for Improvement
As always, our post-camp organizer retrospective highlights a few areas we need to address for next year's event.
Have a printer on-hand for printing emergencies.  
Find a volunteer to arrange for food donations for left-overs.  
Figure out a magical solution for badges that will make everyone happy.  
Find a new official hotel: We had a fair number of complaints.  
Figure out a way to improve the slow service at the after-party.  
Quick hits
Camp attendance was a bit more than last year. Overall, we had 251 registered attendees. A bit more than 100 participated on Friday, almost 200 participated on Saturday, and about 100 participated on Sunday.  
Camp budget was about $18,000, the majority went to catering, but we also had significant costs for featured speakers and sprint leads travel and swag.  
We had a total of 17 fiscal sponsors which provided about two-thirds of our income.  
The registration fee for attendees was $35 ($25 early-bird), with an optional $25 individual sponsorship. We had 41 individual sponsors.  
Our camp organizing volunteers are way better than yours.  
We invested a bit this year in large signage that we can re-use in future years.  
Another change this year - volunteers got in for free (sorry this took so long).  
We had attendees from 9 countries and 19 states.  
Summary
What more can we say? Florida DrupalCamp 2017 was a huge success. Our volunteers are the best, our sponsors are the best, and the Florida community is the best!
Be on the lookout for an announcement about the dates for Florida DrupalCamp 2018 by joining our mailing list and following us on Twitter!