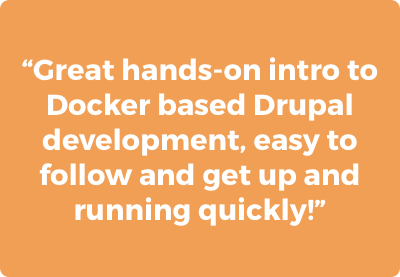 We're happy to announce that we've partnered with the folks at DRUD Tech to create and deliver a live, online, hands-on workshop that will teach the basics of professional local Drupal development using DDEV-Local.
DDEV-Local is a Docker-based local development environment that is designed to get your projects up-and-running quickly on your local development machine. DDEV-Local can be used with Drupal 7 and 8 as well as WordPress and other content management systems.
One of the big advantages of using this type of local development environment (as opposed to an old-school WAMP/MAMP-type solution) is that DDEV helps to ensure that every member of the development teams is using the exact same development environment, increasing productivity and decreasing the chances of environment specific bugs. Furthermore, you'll find that getting team projects up-and-running on your local machine is super-fast!
If you've been reading our recent blog posts or listening to our podcast, then you probably already know that we've taken a keen interest in local development environments lately. 
In fact, we've been diving deep into local development environments for almost a full year now, as we're in the process of evolving our long-form training classes to teach and utilize a more professional local development environment solution. A couple of months ago, we decided to standardize our trainings on DDEV, and since then we've been talking with the DRUD Tech folks (the creators of DDEV) about putting together a workshop that will provide students what they need to get up-and-running with DDEV-Local.
Here's a quick overview of what this new workshop will cover:
What is DDEV? 
Installing DDEV-Local (Mac OS X and Windows 10 Pro)
Getting an existing project up-and-running in DDEV-Local
Everyday DDEV-Local commands and functionality
DDEV-Local integration with hosting providers  
Updating DDEV-Local
DDEV-Local Tips and Tricks
Getting help with DDEV-Local
The first workshop will take place on Wednesday, July 18, 2018, 1-3pm EDT, and the cost is $75. Following the completion of the workshop, you'll have access to the 20+ page curriculum PDF as well as more than 10 screencasts demonstrating installation and basic usage of DDEV-Local. 
Register today and start using a professional local development environment!
We'll be running the workshop monthly, so If you can't make it on July 18, upcoming dates include: 
Wednesday, August 22, 2018, 10am-noon EDT
Wednesday, September 19, 2018, 9-11am EDT
Quotes on this page were shared by participants in our beta-test of the course