Ubercart is arguably the leading ecommerce module suite for Drupal. It allows site admins to sell virtually just about anything online, including physical products, downloadable products, and event admissions. Often, when selling event admissions, it is desirable for the registrant to be able to fill out a profile during the checkout process that can be posted on the site once the transaction is complete. The UC Node Checkout module was built for this purpose. This is the way last year's Do It With Drupal conference handled registrations - with these exact modules.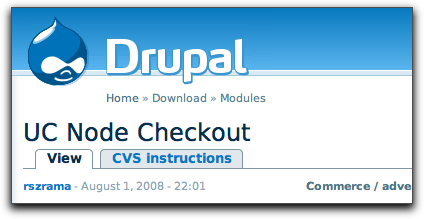 Setting it up can be a little tricky, as it is not entirely a straight-forward process. Ryan Szrama, the de-facto leader of the Ubercart project, demoed this module during the recent DrupalCon DC. I thought I'd take the time to reproduce what Ryan did, as it is a great introduction to this module. Keep in mind it won't be an exact reproduction, but it should be pretty close.
This article will assume you're familiar with some very basic Ubercart concepts, if you're not, don't worry, this isn't rocket science. One thing you'll need to do if you're playing along at home is to create the "keys" directory for test credit card payments - full info on this is located at admin/store/settings/payment/edit/methods in your Drupal install (assuming you already have Ubercart enabled).